FLORENCE SCHOOL
OF
FINE ARTS

a contemporary and dynamic program of art production that offers accredited courses in studio art, art history, Italian studies & humanities.

Come to Florence

have a life changing experience at the Florence School

See great works of Art

Florence has more art per square foot than any other city in the world
florence the city studio
Studying at the Florence School will be one of the most rewarding experiences you will ever have. Our innovative program is designed to take full advantage of all this amazing city has to offer using Florence itself as the laboratory for an authentic cultural experience.
ways to study at the florence school
Academic Semester, Academic Year, Summer Studies. J-Term, Maymester, Post Bac. Receive college credit for your studies abroad.
Location
The Florence School is located in the heart of the city's historical center in the former house of Giorgio Vasari, one the most important renaissance artist, writer and architect.
Housing
Students live in independent apartments offering the chance to become immersed in a vibrant city with direct access to the unparalleled resource that Florence has to offer.
Only at the Florence School
Study and enroll in classes not taught in other programs
Letterpress

Students use vintage wooden type and decorations with rare presses creating hand made artists book, broadsides and large scale posters.
Some kind words from our awesome students
"It was such an amazing experience and I couldn't have designed a better program. Italy is like a second home to me and I feel more aware of Italy's impact on the world now as a result. I also now feel more inspired to be creative in my studies and in life. It was the perfect and necessary addition to my liberal arts education."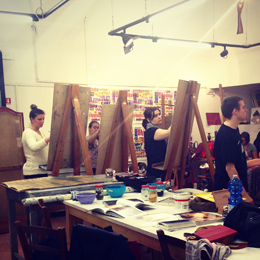 "It was the perfect program for me, I loved it. I'd get up, have a cappuccino, go to the studio and paint, go get some lunch, go back to the studio and paint some more, take a break, go and look at some art, go home and make some dinner. Ya, it does not get any better than this."
"My overall experience was nothing but positive. I am not an art student, but I felt at home in the studio. Everyone was encouraging and helpful in letting me express my creativity. I feel confident in my abilities in the studio now, which is something I knew nothing about prior to my experience."
"We developed a close relationship with our teachers. They had answers to any questions about Florence, traveling, the language... I am happy that the program had limited enrollment, it was as close to a personal studio in Florence as you could get, amazing. This also meant we got personal attention pertaining to our work, every step of the way."
"My apartment was amazing and I felt like I was truly living in Italy and not just a student studying abroad. My apartment was furnished and ready the day I moved in. The location was perfect walking distance from my school and major parts of the city without being caught in the middle of everything."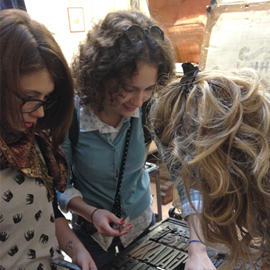 "I feel like a different person, although I can't pinpoint how I have changed(too soon). Going outside of your comfort zone, not speaking the language, meeting new people who have a completely different lifestyle, and being in an unfamiliar place I think shows your true colors so to speak and shows how adaptable we are as humans. I haven't figured out a way to go back but I am seriously planning on it."
Experience Florence
Florence is an incredibly beautiful city often called "the birthplace of the modern world". It offers an amazing sensation of "seeing" and feeling": with the sheer magnificence of the Duomo, the incredible collections of the Uffizi, Galleria dell'Accademia, the frescoes in the Capella Brancacci, and literally hundreds of smaller sites, churches and palaces which contain several centuries of an electrifying history and culture.
important links
Get in touch
Address: Casa del Vasari
Borgo Santa Croce 8
Florence, Italy 50122

Phone: (+39) 331 10 200 23

Web: www.theflorenceschool.it

Email: info@theflorenceschool.it