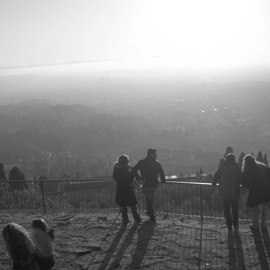 How to Arrive
Travel Info
Traveling to Florence
Students should fly into the Florence airport which is called Peretola, (airport code: FLR) located about fifteen minutes from the center of the city, (of course depending on the time of day and traffic). Students often try to save money by flying into other Italian cities but this often ends up costing more due to local transport costs and plane delays. There are no direct flights from the US to Florence, so you will need to change planes in another European city. We encourage students to book their flights well in advance (at least 90 days prior to departure).
---
International Airlines
Alitalia: 848/824/4444
Air France: 848/884/466
British Airways: 199/712/266
Delta Air Lines: 800/477/999
KLM: 06/650/11441
Lufthansa: 06/656/84004
Meridiana: 055/230/2314
---
Traveling By Train
The main train terminal in Florence is Santa Maria Novella, (SMN). The train is a very convenient method of transportation. The website of the national Italian railway company is www.trenitalia.it (there is an English language option at the top right corner of the homepage). On the site, you can simply type in your arrival and departure cities and all available trains for the time you request will be listed on the screen. At the station, tickets can be purchased either at the automated screens throughout the station or from ticket agents.
Experience Florence
Florence is an incredibly beautiful city often called "the birthplace of the modern world". It offers an amazing sensation of "seeing" and feeling": with the sheer magnificence of the Duomo, the incredible collections of the Uffizi, Galleria dell'Accademia, the frescoes in the Capella Brancacci, and literally hundreds of smaller sites, churches and palaces which contain several centuries of an electrifying history and culture.
important links
Get in touch
Address: Casa del Vasari
Borgo Santa Croce 8
Florence, Italy 50122

Phone: (+39) 331 10 200 23

Web: www.theflorenceschool.it

Email: info@theflorenceschool.it