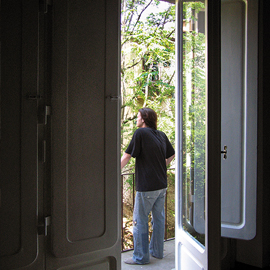 Orientation
Easing into Italian Culture
Student Orientation Information
Student orientation information is meant to familiarize students with the Florence School and to discover the beautiful city of Florence. Orientation takes place in a relaxed atmosphere over several days upon your arrival in Florence and sets the stage for your new home away from home.
Students arriving at Peretola Airport in Florence are met by a Florence School staff representative, given housing information and housing keys and sent by taxi to apartments. All students traveling independently please check in at the Florence School at Borgo Santa Croce 8, between 9:00 am-5:00 pm to receive housing information and apartment keys.
During the evening there is a welcome reception so students can get acquainted with each other. The following days will include meeting with the staff for general informational meetings which will include an introduction to the Florence School of Fine Arts and informational topics on the culture and customs in Italy. Many of the issues discussed will cover adjusting to living and studying in Italy. Please remember to bring your passport, photographs, and financial and insurance information for the completion of forms for the Permesso di Soggiorno registration.
There is a walking tour throughout the historic center pointing out the main Florentine monuments, art and photo supply stores, markets, post office, how to change money, purchase bus tickets, grocery shopping and other everyday practical information. Students complete class registration and have a full-immersion weekend with housemates as students begin to discover the incredible city of Florence.
---
Experience Florence
Florence is an incredibly beautiful city often called "the birthplace of the modern world". It offers an amazing sensation of "seeing" and feeling": with the sheer magnificence of the Duomo, the incredible collections of the Uffizi, Galleria dell'Accademia, the frescoes in the Capella Brancacci, and literally hundreds of smaller sites, churches and palaces which contain several centuries of an electrifying history and culture.
important links
Get in touch
Address: Casa del Vasari
Borgo Santa Croce 8
Florence, Italy 50122

Phone: (+39) 331 10 200 23

Web: www.theflorenceschool.it

Email: info@theflorenceschool.it